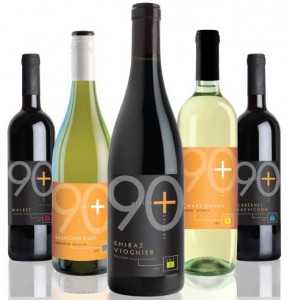 What a great concept and business model!  The goal of 90+ Cellars is to provide wine lovers with an outstanding bottle of wine at a great price.  They have taken advantage of the current economic conditions to purchase high quality, highly rated finished wines directly from the wineries at a discounted price.  The wines that are selected must have a rating of 90+.  The wineries have either produced more than was needed or sales are slow so it serves as a win-win for both 90+ Cellars and the wineries…and ultimately the wine lover!
The wineries bottle and label the wines for 90+ Cellars which minimizes 90+ Cellars' overhead costs and permits them to become a virtual winery.  This allows them to pass the savings on to the wine enthusiasts.  In return, the wineries are promised complete anonymity.  If you are really good though you may be able to figure them out.  But, they take this oath very seriously so you will never know if you are right!
I had the opportunity to taste a few of them.  Here are some that I tasted along with their descriptions and pricing.  My favorites are marked with an asterisk.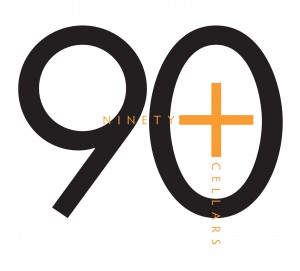 *Lot 40, Reserve Dry Creek Chardonnay, CA, 2010
Vibrant aromas of melon, pear, and lightly baked apples hover above notes of vanilla bean and flaky pastry dough. the wine's plump texture is balanced by flavors of fresh orchard fruit and a dose of minerality. It begs to be served alongside grilled scallops, creamy pasta, or roasted chicken, but is equally happy hanging out by itself.
$15,99, compare to $24.99
*Lot 47, Pinot Noir, Santa Maria Valley, CA,  2009
Dark and rich with intricate aromas of dried cherries, crushed herbs, cola, and sassafras. A melange of flavors consisting of juicy, red berry fruit mixed with white pepper, caramel, and sage pours fourth on to the palate leading into a long and savory finish.
$17.99, compare to $27.99
Lot 8, Garnacha Crianza Carinena, Spain, 2008
A complete wine, with aromas of forest fruit shrouded in chocolate, vanilla, milk, coffee, nuts and wood spice. The wine has a broad palate of earthy blue fruits and integrated oak; well put together, ripe and nicely open with a lingering spicy finish.
$11.99, compare to $15.99
Lot 55, Collectors Series Merlot, Rutherford, Napa Valley, CA, 2009
Sweet-smelling aromas of dark plums, cola, and cedar are intertwined with notes of mocha, anise, and hints of sage. Deliciously full-bodied with a host of unctuous tannins that gently caress your palate and then melt into a lengthy savory-sweetness. Trust us, one bottle won't be enough.
$22.99, compare to $55
Lot 51, Reserve Cabernet, Mendocino, CA, 2007
Luscious black currant fruit embedded in a mosaic of mint, pepper, mocha, and vanilla. Once sipped the wine's playfully rambunctious character mellows into a smooth and delectable finish. Serve with a hearty pot roast, herbed chicken, or a baked vegetable casserole.
$16.99, compare to $25
*Lot 48, Collectors Series Cabernet, Napa Valley, 2009
Fragrant aromas of cassis and raspberries soar above more subtle notes of violets, vanilla, and clove. The palate is full-bodied and focused with a concentrated black cherry, vanilla core finishing supple with impeccable poise and a stylish combination of sophistication and grace. Enjoy now or cellar for a decade.
$29.99, compare to $75