I love products that serve dual purposes, especially when one of them is a charitable donation and the other is wine!  ONEHOPE Wine donates 50 percent of their profits to a variety of different charities.  I love that!  You get to have your wine and feel good about it too!
Here is an excerpt from ONEHOPE's vision statement: "HOPE is all about making the world better, and giving people an easy way to make a difference. Wine is a living, breathing commodity that has always helped bring people together in common purpose. We can't think of a better vehicle for change."  In three years ONEHOPE has already become the wine of choice at several hundred premier events including the Grammys, The American Red Cross Gala, the BAFTA's, the Sundance Film Festival and VH1 Save the Music.

Corroborating with Robert Mondavi, Jr. to create the wines, ONEHOPE Wine was started by eight friends as a personal mission to help a friend fighting cancer.  They started by working out of their homes and selling wines from the trunks of their cars.  It just goes to show you that a business like this is good business and people enjoy helping a good cause.  Right now ONEHOPE serves many different causes and they hope to continually broaden this.
Here is a sampling of their current offerings:
2009 ONEHOPE Arroyo Seco Reserve Pinot Noir
Supporting Children's Hospitals
2008 ONEHOPE California Zinfandel
Supporting Our Troops
2008 ONEHOPE California Merlot
Fight Against AIDS
2009 ONEHOPE Carneros Reserve Pinot Noir
Fight Against Cancer
2010 ONEHOPE California Cabernet Sauvignon
Fight Against Autism
2009 ONEHOPE California Chardonnay
Fight Against Breast Cancer
2009 ONEHOPE California Sauvignon Blanc
Supporting Our Planet
They may not currently be available in your area, but keep on the look out and give them a try if you see them in a retail store or dining establishment.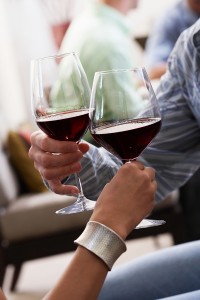 Here's to a happy, healthy and joyous Thanksgiving spent with family and friends.  I hope you are able to enjoy a nice wine with your turkey along with other libations before and after the meal.  Cheers!
HAPPY THANKSGIVING!
ONEHOPE Wine
P.O. Box 1117
Newport Beach, CA 92659-1117
Phone: (866) 983-2266
Email: info@onehopewine.com