Have you ever heard of Dream Dinners?  I've been going to Dream Dinners for over two years now and I am hooked!  I work full time and the last thing I want to think about during the week is what I am going to make for dinner.  If you have never heard of Dream Dinners you owe it to yourself to try it out.
Dream Dinners is a meal preparation franchise.  You go to Dream Dinners to prepare your meals and then bring them home to freeze and defrost as needed.  It sounds a little dramatic but I have found it to be life transforming.  I used to dread having to think about dinner each night.  All you have to do is take the meal out of your freezer and put it in your refrigerator either the night before or the morning of the day you want to have it for dinner.  Most meals take about thirty minutes to cook and the clean up is minimal.  The portions are perfect and the meals are well balanced and healthful – and most of all delicious! During the summer months you may grill many of the meals and there are also choices for the slow cooker for the cooler months such as roasts and pork loins.  On the weekends or on holidays when I have the time I absolutely love to plan meals, cook and entertain.  During the week, however, it is the last thing I want to have to worry about. Dream Dinners has been a life saver!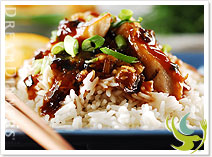 This is how it works.  You pick your meals out in advance by either filling out a form in the store or by selecting them online.  You also pick your session date and time at the same time.   You bring a cooler with you to transport your meals home.  At the Dream Dinners store there is a a station for each meal.  When you order your meals you either order a 3-serving size meal or a 6-serving size meal for each recipe.  The 3-serving meals are perfect for me since we typically have anywhere from one person to three people eating dinner at my house during the week.  At the stations you follow the instructions and measure the ingredients.  Many of the ingredients are items you don't typically have on hand in your house so you get many varied meals without having to have all the ingredients at home. All the ingredients are right in front or you with all the corresponding measuring utensils.  The ingredients are of high quality and the cuts of the meats and poultry are better than anything I purchase in the grocery store.  They also have fish and vegetarian choices and many of the meals include sides.  Additionally there is a stocked freezer in the store to add complementary items such as vegetables, soups, desserts or additional meals already prepared.
At Dream Dinners you are able to assemble about 36-servings in close to an hour.  I go with friends so it is also a social event and we sometimes stop for a glass of wine on the way home.  If you get enough people together you can have appetizers and wine in the store while you are preparing your meals.  We used to have a similar stand-alone store nearby called The Gathering Kitchen which was equally as wonderful.  I loved their tagline "Cook with Friends…Eat with Family". That's what it's all about and I love it!
Click on the link to find a location near you and give it a try!  Let me know what you think.
Dream Dinners