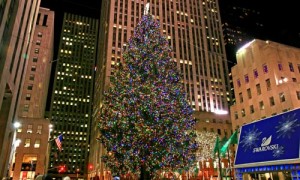 Indulge me a little…
At the end of October when it was snowing, which is quite unusual in the Boston area, I got a little depressed.  Moving away to a warmer climate cannot come soon enough, but in the meantime I figured I would deal with it in a seasonable way.  So, I thought of something that I think is enjoyable to do when it is snowing – and that is to walk around the streets of NYC during the holiday season, feel the energy that surrounds me and look at the beautiful decorations. There is so much energy in NYC that it is exhilarating.  I was there last December during the holiday season and ended up walking ten miles without even realizing it!  The pace is fast but also very enjoyable and satisfying.
So, back to why you should indulge me.  In creating this memory I also, to keep my mind off the snow in October, created an outfit that I would wear – of course!
Here is the outfit.  I couldn't decide between two different scarf and boot combinations so I left both in with the idea that the decision would change depending on my mood.
What kind of memories does snow evoke for you?