Chandeliers are the most elegant of lighting.  A chandelier can change the whole look of a room and add an incredible amount of ambiance.  Lighting, in general, is a very important component of your decor.  It creates atmosphere conveying different moods.  Much can be done with different types of lighting and the placement of lighting.  If you are at all unsure of how to place your lighting it is well worth the investment to hire a lighting consultant to help you.  If you are adding lighting to an existing house it is easy enough to play around with it on your own and figure out what works for you but if you are designing a house it is especially important to consult a professional.
Chandeliers can be very informal or very formal.  I personally love the formal ones even in a rustic environment.  I've chosen some of my favorite and most stunning chandeliers to display here.
This chandelier is from West Elm and is a little more casual than my other picks.  This works well in a bedroom setting or a casual dining area.  It also comes in a rectangular shape which works well over a rectangular dining table.  West Elm Capiz Pendant
This chandelier is from Restoration Hardware and is much more formal and works well in a more formal bedroom or dining room setting.  19th C. Rococo Iron & Crystal Chandelier
This chandelier is also from Restoration Hardware.  I like the celestial feeling of the design.  It feels airy and will open up a space.  I can see this is a more rustic setting with beamed ceilings.   Foucault's Twin-Orb Iron Chandelier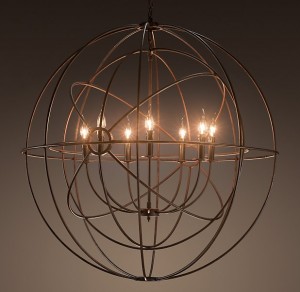 I love the old world, European feel of this chandelier, also from Restoration Hardware.  It works well in a formal setting in a bedroom or dining room.  19th C. French Empire Crystal Chandelier
This chandelier, from Andromeda, is reminiscent of the beautiful Chihuly glass sculptures.  These come in different shapes and colors and are made of Murano glass in Italy.  They have a contemporary feel to them and would work well anywhere in the home.  Nastro from Andromeda
Windfall makes absolutely beautiful lighting.  Pictures do not come close to the warmth and beauty of these crystal chandeliers.  I love all of their lighting but I am partial to their Versailles Chandeliers.  If you ever have the opportunity you really should view them in one of their showrooms.  In the US, you can view Windfall's products at Moura Starr showrooms. They have a showroom in the D&D building in NYC and one at 9000 Beverly Boulevard in West Hollywood.
Scarlett Two-tier Chandelier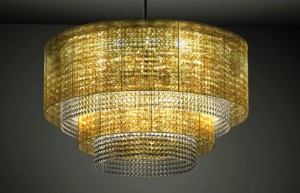 Scarlett Three-tier Chandelier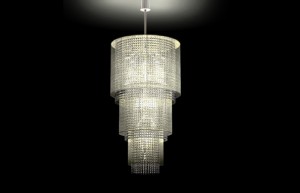 Rectangular Scarlett Chandelier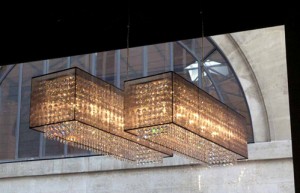 And, the most impressive, indulgent chandelier of all from Windfall!  A must see in person at Moura Starr!