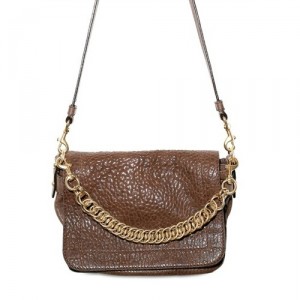 Crossbody bags are perfect for sightseeing or shopping or going for a city stroll.  You just cross them over your body (as the name implies) and your hands are free!  They are especially great for the winter months when you are wearing bulky clothing since bags tend to slip off your shoulder from the bulk.  This can be very annoying especially when you are trying to juggle things around.  When you are walking around with a crossbody it is like you aren't wearing a bag at all but if you need to get anything it's right there at your fingertips!
Okay, I had to pick 6 instead of 5 because I absolutely LOVE this Elena Ghisellini bag (above) from Luisa Viaroma. It's a little pricey ($918) but I love the grain of the leather, the color and the gold chain detail. The rest of my picks are below with the descriptions in order from top to bottom.  Click on any of the images to purchase.
Tory Burch Amanda Crossbody
$435 at Bloomingdale's
Who doesn't love Tory Burch? This is a versatile bag that can be dressed up or down and goes with most anything.
Cole Haan Eva Leather Crossbody
$198 at Lord & Taylor
This color goes with everything and is a little dressy. The details dress it down a little making it even more adaptable.
MARC By Marc Jacobs Totally Turnlock Python Shine Percy
$218 at Marc Jacobs
I love Marc Jacobs. This bag incorporates animal skin with some luxe and shine. A very classy style.
Kate Spade New York 'Fanfare – Missy' Crossbody Bag
$103 at Nordstrom
Of course you have to have one leopard print bag and this one is in patent leather instead of calf skin making it a little different than the ordinary!  What a great price for Kate Spade too!
Cole Haan 'Brandi' Crossbody Bag
$198 at Nordstrom
This bag is so cute and colorful. The zippers on the side make it playful. It will be great for this spring but versatile enough to start using now!