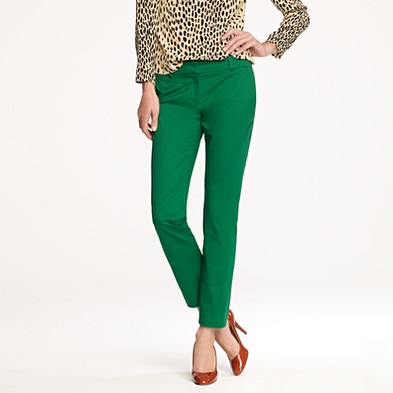 I don't know about you but I can't stop thinking about spring!  Around this time of year I like to start dreaming about what I will wear and what my style will be for spring.  This helps me get through the winter in New England!  It's therapeutic and encouraging to look forward to the fashions and colors that will indicate spring is here!
Fashion for spring 2012 is all about color and prints and lots of it!  Some of the trends I will be embracing and others not so much!  Click on each trend so see more along with images.  Here are some of the trends you will be seeing this spring…
Brightly Colored Pants


Color is going to be found on the bottom as well this spring!  You don't have to wear only black, white and denim…you can have fun and brighten up your look with colorful pants.  Bold colors of green, red, yellow, blue, hot pink and pale pink.  It is not going to be boring!
Color Blocking


This is by no means a new trend but we will be seeing it more prominently this spring than we have in a few years.  You can either purchase clothes that already incorporate color blocking or you can put together solid pieces to achieve the same effect.  Here are some color combinations that go well together.

Peach, gray and ivory
Cobalt blue, black and white
Brown, peach and pink
Red, orange and navy
Red, pink, orange
Yellow, cobalt blue and white
Bold Prints


Bold prints will be everywhere.  Geometrics, birds, tribal prints, you name it. The bolder and brighter, the better!
Peplums


To be honest, I haven't seen this style since the 80s and I am not quite sure if I am ready to wear it again in all its glory, but I have to say some of the peplum dresses and tops are kind of cute…
Tangerine


Pantone's color of the year for 2012 is Tangerine Tango and it can be found in many of the spring styles, including accessories.
Stripes and Polka-dots


Stripes and polka-dots can be so much fun. They add a little interest and whimsy to any outfit!
Shoe Trends


Some shoe trends we will be seeing this spring – ankle straps, braided sandals, espadrilles, platform wedges, bright colors, metallics, sparkles…
What styles will you be embracing this spring?