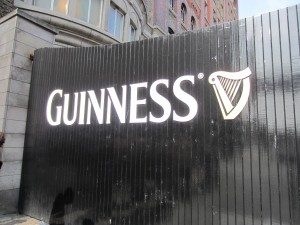 I've never been a fan of Guinness®, at least in the States. The last time I was in Ireland I was not of drinking age so I couldn't experience it quite the same way as I was able to this time around. After flying through the night the only natural first stop in Dublin is at the Guinness Storehouse®, right? That is where I experienced my first real Guinness®!
They certainly make you work for it! The self-guided walking tour at St. James' Gate brings you up seven levels before you actually get to taste it. There's a store at the beginning and then each level after that showcases the ingredients and the brewing process as well as advertising over the years and a great assortment of restaurants and a café. When you are almost there you get to sample a glass of Guinness® (yum)! Then you have a choice – you can either pour your own pint of Guinness® or make the trek up one more level to the GRAVITY® Bar – a panoramic bar with a fantastic view of Dublin and the brewery –  for a complimentary pint of Guinness®. I opted for the view! It was a beautiful seventy degree day (very unusual for Ireland, but I brought it with me from New England where it was equally unusual). Guinness® is like no other beer I have ever had. I always thought it was thick and heavy and tasted like bitter molasses. Well, I think differently now!  I can only describe it as a treat. It is a yummy, creamy treat. Watching it settle is so very cool! The foam on top has the consistency of marshmallow creme. It's like drinking a beer milkshake – sounds kind of crazy, but that is the only way I can describe it!
Since coming home I did try one on draught at a bar and one from a can called Guinness Draught®. I have to say the one in the can, especially created to try to capture the taste and consistency of having it in Ireland, was actually very close to the real thing! Give it a try!
Guinness Storehouse®
St. James' Gate
Dublin 8