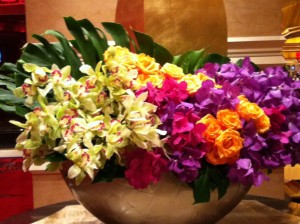 This past week I stayed at the Encore in Las Vegas for a conference. The hotel is first class all the way, especially when it comes to the design details in the main areas of the hotel and conference areas. The colors are beautiful! Jewel tones of red and green, yellow, orange and purple, with beautiful mosaics, a smattering of crystals and beautiful fresh flowers…just a touch of everything and not over the top. There are beautiful mirrors with embedded round crystals of different sizes. They blend in so well that you don't see them when you first glance at them but on further inspection they become apparent…very subtle and unique. Even the rest rooms were gorgeous and impeccable!
The food was delicious and the service was great. There are beatiful patio areas situated among the conference facilities adding to the ambiance and giving you the opportunity to enjoy the outdoors and the view of the pool and greenery. There are many restaurants to choose from at the Encore and at the adjacent Wynn as well as at the nearby Palazzo. The music in the hotel ranged from Frank Sinatra to deadmau5 along with other current music so it wasn't like listening to the same thing over and over.  I especially liked the Frank Sinatra music; it engaged with the classy feeling of the hotel.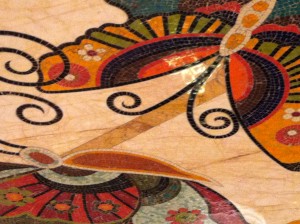 Le Rêve – The Dream  is currently playing at the Encore among other shows and along with multiple clubs and gambling so there is no loss of things to do. Le Rêve – The Dream is an acrobatic aquatic story featured in a round theater. It is truly amazing – beautiful, sensual and very sexy. The show lasts an hour and fifteen minutes without a break and is just perfect!
The guest suites are all very comfortable and range in size all the way up to a two level suite. Many of the suites even have their own massage room! The suites have floor to ceiling windows, many electronic controls and include high quality linens and many other amenities.
I highly recommend the Encore for both pleasure and business and if you are there and it is still playing I highly recommend Le Rêve.
WYNN LAS VEGAS AND ENCORE HOTEL
3131 Las Vegas Blvd. South
Las Vegas, NV 89109