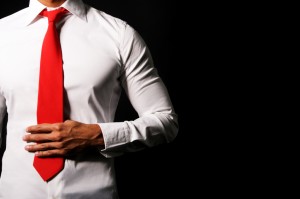 In honor of Father's Day I thought I would write about men's fashion – or at least my opinion. Men's clothes and fashion, for every day men, is so different than women's. Men have far fewer choices and far fewer trends to cope with and most trends are very subtle. If the ordinary man strays too far away from basic men's fashion the results can be disastrous. For example, Marc Jacob's outfit at the Met Ball this year. Marc Jacobs is one of my favorite designers and he certainly is no ordinary man, so if anyone can pull this off he may be the one to do it. I still don't like it. I think this look should be left on the catwalk and most likely that is where it will stay.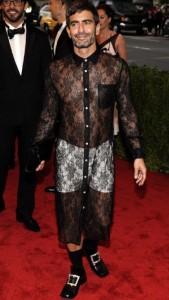 In my opinion, there are some basic don'ts for men's style:
Baseball hats should be left at the park and worn around the house and for working in the yard

Clothes should not be overly big

T-shirts, and some can be really fun, are best for wearing around the house and working in the yard
Athletic shoes should be worn for athletics….sneakers can be okay depending on the brand and style as long as they are clean and neat
Jeans should be current and not baggy
Know when to tuck in your shirt and when to leave it out
And, some dos:
Small touches of jewelry
Any type of shirt as long as it is clean, not wrinkled, not a t-shirt and not too big
Suit jackets with crew neck or v-neck shirts or sweaters underneath create a nice, casual look
Patterns of all types can be nice; just don't mix them
Any type of pants as long as they aren't baggy and are clean and pressed
Jeans can be casual or dressy as long as they are not baggy and are current
Cologne for evening and going out as long as it isn't overpowering – or cheap
The main point is that each man has his own style and personality and not every man can pull off every look. It's important for men to be in turn with this and stay within his own realm.
I want to dedicate this post to all the wonderful Father's out there! I believe my kids have one of the best father's around and I am so grateful for that. My dad, Dr. Stuart Wiles, has been a wonderful dad. He is the most kind, good natured, fair man I know and I am proud to call him my dad. He is also very handsome, intelligent, thoughtful and probably one of the best dressed people I know!
Happy Father's Day!