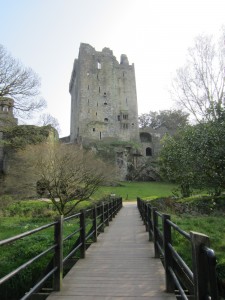 On my recent trip to Ireland I was pleasantly surprised with the number of great restaurants and delicious food. Life in general is so simple in Ireland and the same goes for the food – natural and unprocessed – the ultimate in farm to table and sea to table! In addition there is the influence of nearby countries such as Italy. I had some of the best Italian food in Ireland – it could even rival the North End in Boston. Suffice it to say I did not have a bad meal once in Ireland – breakfast, lunch or dinner. Two notable restaurants and one bar worth trying and which I highly recommend are:
Lord Kenmare's in Killarney, County Kerry

The atmosphere was lovely, a little bit of rustic mixed with contemporary, and touches of jewel tones. The restaurant is on the second level above a bar named Murphy's, by the same owner, which is a very enjoyable pub and perfect for a pint or cocktail while waiting for a table upstairs. By the time dinner was over there were two local musicians singing traditional Irish folk songs in the bar and the bartender was very friendly, and very attentive, even though the bar was busy.
At Lord Kenmare's I highly recommend the hake – Grilled Castletownbere Hake served with spinach and spring onion mash in a white wine butter sauce. The toasted goat's cheese salad was delicious as well – made with shaved fennel, pomegranate and candied pecans with baby spinach and mixed leaves.
Lord Kenmare's
College Street
Killarney, Ireland
Ristorante Rinuccini in Kilkenny, County Kilkenny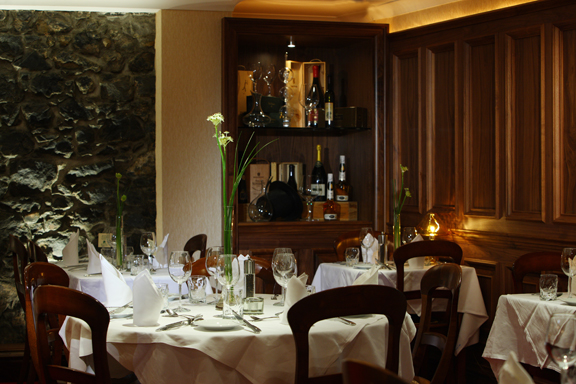 This restaurant was a find! It is tucked in below the street across from the Kilkenny Castle and next to the Kilkenny Design Centre down a set of stairs. It is a small place but the service is very attentive and the feel in the restaurant is very classy and elegant, and above all the food was superb! All the items are a la carte and it was so hard to choose what to eat – everything looked so good – and everything WAS good – delicious and so fresh! I settled on the Ravioli alla Crema di Gorgonzola – fresh handmade ravioli stuffed with ricotta and fresh spinach and served in a gorgonzola cream and white wine sauce. Regardless of what you choose for dinner, if you are ever at Ristorante Rinuccini, you have to have the Involtini di Melanzane for antipasti. It is rolls of aubergines, stuffed with ricotta cheese and sundried tomatoes and baked in the oven in a fresh tomato sauce, served hot with a dusting of parmesan cheese. It's to die for!
Ristorante Rinuccini
1 The Parade
Kilkenny, Ireland
Left Bank in Kilkenny, County Kilkenny

After dinner at Ristorante Rinuccini make your way around the corner to Left Bank. It's a former Bank of Ireland branch that was transformed into an elegant and stylish bar in 2008. The bar is actually multiple bars spread throughout the ground floor with sitting areas – couches and chairs everywhere – but even the former office units of the Bank of Ireland branch on the upper levels were transformed into multiple bar areas with views of the surrounding city.
Left Bank also has an outdoor seating area called Louie's Backyard & Bar. It's a fully heated and covered beer garden with an open fire and a retractable roof.
The architecture and details throughout the Left Bank are incredible and it is a very comfortable spot for conversation and drinks!
Left Bank
The Parade
Kilkenny, Ireland