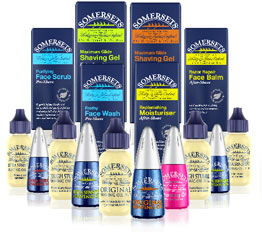 To be fair, I am one of the lucky ones who doesn't have to worry about shaving all that often. Somersets Oil makes the whole process all that much easier – as well as enjoyable! Somersets Oil is comprised of 100% natural oils; the oils come from plants such as Rosemary, Lavender, Tea Tree and Sweet Almond. What a difference from the chemicals found in traditional foam or gel shaving creams!
What makes shaving with Somersets Oil so easy and enjoyable?  You don't have to plan for it; it can be an after thought. You don't even need to be in the shower. All you need is 2-3 drops to rub over you legs before shaving. It smells like you are at the spa and it moisturizes your legs and leaves a beautiful sheen – it does not leave an oily residue as one might think.  In addition the oils lubricate the blade making it easier to get a close shave and helps the blade last longer. Because you need so little the container is ultra small making it very easy to throw in your travel bag!
Somersets Oil, popular in Europe, is now available in America. They have a range of products to use before, during and after your shave. Products such as Pre-Shave Face Scrub or Face Wash and after shaving Face Balm for men in addition to a variety of options of the shaving oil. For women, they carry two products: Extra Sensitive Shaving Oil and Extra Delicate Shaving Oil, for the bikini area. At a price point of $6.99 you owe yourself to give it at try! Somersets Shaving Products are available here or go directly to purchase at www.somersetsusa.com.

Ingredients: Hybrid vegetable Oil, Menthol , Fragrance, Aloe Vera, French Lavender Oil , Sandalwood Oil, Evening Primrose Oil, Sweet Almond Oil, Safflower Oil, Grapefruit Oil, Tea Tree Oil, Corianda Oil, Palmarosa Oil, Rosemary Oil, Ylang Ylang, Chilean Rosehip Seed Oil.

Ingredients: Hybrid Vegetable Oil, Menthol, Fragrance, French Lavender Oil, Organic Tea Tree Oil, Evening Primrose, Cedarwood, Clove Bud Oil, Sweet Almond Oil, Blackcurrant Seed Oil, Armoise Oil, Palmarosa Oil, Petigrain Oil, Organic Brazilian Bisabalol, Vetiver Oil, Basil Oil, Grapefruit Oil, Organic Chilean Rosehip Seed Oil and Patachoili Oil