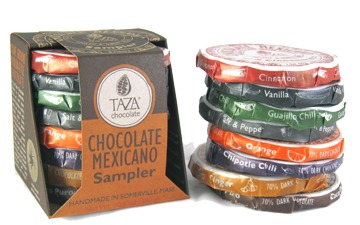 I love chocolate! Even the sound of the word when it rolls off the lips is amazing to me! It's astonishing how one word can arouse such feelings. So…when I heard about Taza Chocolate – a completely different type of chocolate from what we are used to because it is stone ground – I had to try it! Taza Chocolate is probably like nothing you have ever had before. It is Mexican-style chocolate which is stone ground in small batches and is created literally from bean to bar. It is rustic and definitely not smooth but so very flavorful – in fact it actually bursts with flavor!
To me there are two things that makes Taza Chocolate even better. 1. It is 100% USDA certified organic. It doesn't contain any artificial flavors, colorings or sweeteners. Additionally no pesticides or herbicides are used on the farms where the cacao is grown and the fertilizer that is used does not contain any chemicals or animal byproducts. And, 2. Taza has created a Direct Trade Certified Cacao program where they cultivate relationships with farmers, face-to-face, and pay them a premium for the highest quality cacao possible. Another fun tidbit – You can look up to see how your batch was made by entering your batch number on their website. Very cool!
Taza Chocolate comes in many flavors. Some you would never even think of combining with chocolate. Their sampler includes cinnamon, vanilla, guajillo chili, salt & pepper, orange, chipotle chili, and ginger in addition to cacao puro. I've tried them all! I have to say I wasn't so sure about the chili flavors but I actually loved the spiciness combined with the chocolate. I wasn't thrilled about the salt & pepper, but hey, that's my only complaint! The chocolate is also good for cooking especially for mole sauce and for traditional Mexican hot chocolate.
Their website is full of information including their history, recipes and details on how to tour their factory in Somerville, MA – go check it out and find a store near you to buy and try Taza Chocolate!
Let me know what you think! Yum!